Your security information and event management (SIEM) tool provides you with real-time analysis of security alerts generated by applications and network hardware.
Combining your SIEM technology with a ZTNA model can be extremely advantageous.
Join Avertium and LogRhythm for a discussion about the role of a SIEM in a ZTN approach to cybersecurity.
In this webinar, we'll discuss:
1. The benefits of a SIEM as part of a ZTNA model
2. How ZTNA affects your threat detection and response strategy
3. How tools like LogRhythm can be used in conjunction with ZTNA to drive synergy within your threat detection and response processes.
SPEAKERS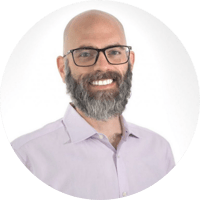 Avertium
Paul Caiazzo, SVP of Security & Compliance
BIOGRAPHIES
Brian Emond is the Director of Sales Engineering at LogRhythm, a world leader in NextGen SIEM, empowering organizations on six continents to successfully reduce risk by rapidly detecting, responding to and neutralizing damaging cyberthreats. Before joining LogRhythm, Brian started as an Air Force professional, protecting sensitive information. And a few years later, he continues to be more involved in IT security, ensuring that a 24/7 Security Operation Control Center runs smoothly from day to day as well as ensuring that the security framework for a large scale government infrastructure is in place and compliant with all applicable guidelines and standards.

With 15+ years of extensive experience in IT security within a variety of networking systems, and applications, Brian has specialties and certifications in: CISSP, CCNP - Security, Network+, LogRhythm, Arcsight ESM, Air Force Crew position Certification – Network Services Technician, Air Force Crew position Certification – Boundary Protection Technician.
Paul Caiazzo is Avertium's senior vice president of Security and Compliance where he oversees technology alliances and strategic initiatives guiding Avertium clients through challenging security problems. He also leads Avertium's internal security and compliance initiatives working to reduce risk across the organization and for clients.

With more than two decades of experience, Paul has an extensive background in the Federal Government and financial sectors where he supported the Federal government's cybersecurity needs in a variety of Department of Defense and civilian agency programs across a spectrum of critical missions. His mission-focused background gives him first-hand knowledge of not only how crippling cybersecurity issues can be, but also the perspective that good security supports the mission. As such, Paul has kept focus on helping clients understand the risks they face and arming them with effective mitigation strategies.

Paul serves as the cybersecurity advisor to the Science and Technology Policy Center for Development where he utilizes his expertise to help the nonprofit organization achieve their goal of advancing ICT in developing countries. He is a certified information system security professional (CISSP), a certified information systems auditor (CISA) and a certified ethical hacker (CEH).